Jejili - Youth Centre in Chiatura
The Youth Centre for risk group children was opened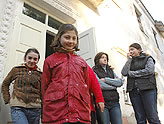 in the formerly industrial region in Western Georgia in 2001 with the financial support of UNICEF and the assistance of the local authorities. Chiatura is a town affected by poverty, unemployment and hopelessness, with many families living in extreme poverty and a large number of orphaned children. The assistance of these children through their involvement in healthy life and useful activities is vital for their survival, which is the goal pursued by the Youth Centre.



Throughout the five-year operation of the Centre, around 1200 children were provided with the rehabilitation assistance, thanks to which many of them escaped physical and spiritual complications.

At present, the Centre, within the Rebuilding Lives Projectsupported by Save the Children/USAID and in the building repaired under the same grant, is providing assistance to 150 children aged 6 to 17.
---
Basic Services
Education
Sport and Entertainment
The children play football, volleyball and basketball with great enthusiasm. They have all the equipment and a nice courtyard to enjoy playing. The residents of the Centre are also taught chess and checkers. In summer they swim in the river, go on excursions and hikes.
Computer
UNICEF granted three computers to the Youth Centre. Six days a week two teachers offer practical training to the children who are eager to acquire computer skills.
Painting
The children of all ages are actively involved in painting classes. The Centre puts emphasis on the application and development of the children's creative abilities. The paintings reveal the childish dreams of the residents of the Centre and sometimes their sorrowful lives… The pictures painted by the Jejili residents have been exhibited in Tbilisi and Kutaisi.
Drama
Singing/Dancing
Handicraft
The Centre children can sew, embroider and knit; they make fine beadworks, postcards, souvenirs, bags, slippers, etc. This quiet activity enhancing their self-realization ability is very helpful – the skills will be useful to them in their future housework and may also inspire them to start small businesses.
Journalism
Professional Skills Development (Vocational Training)
Events
Leisure
Psychological assistance